On Jan. 27, 2015, Chongqing Cummins Engine Company (CCEC), a joint venture between Cummins and Chongqing Machinery and Electric Co., Ltd, broke ground on its new plant in Chongqing, China.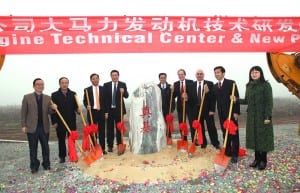 Covering approximately 66 acres, the new facility will include a tech center dedicated to High Horsepower (HHP) engine engineering, as well as a new engine manufacturing plant. Construction on the tech center is expected to be finalized in 2016, and the plant is expected to go into production in 2018.
Representatives from both Cummins and Chongqing Machinery and Electric attended the groundbreaking ceremony; they included Wang Hongjie, General Manager of China EBU HHP Business and Customer Support; Jim Trueblood, VP of HHP Engineering; Iain Barrowman, VP of HHP Operations; Peng Lixin, VP of China Engineering; Wang Yuxiang Chairman of CQME; and Weng Jieming, Standing Vice Mayor of Chongqing.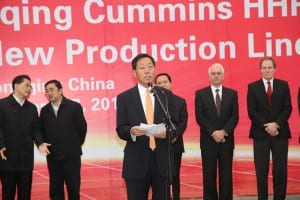 The new plant and tech center will reinforce CCEC as a leader in China's HHP power industry.
"The new plant project of CCEC sets another milestone for Cummins in China. From the first licensee agreement in 1981, first engine joint venture in 1995, to establishing HHP engine base, Chongqing has played a key role in our HHP engine development and production," Wang Hongjie said. "The new plant is set for advanced HHP engine platform upgrade and local production, delivering high performance power to meet the specific demands of Chinese customers. The exploration on alternative fuel application will add great value towards our ultimate goal of sustainable development."
The advanced production facilities at the new plant will include a cylinder block machining line, engine assembly line, engine delivery test line and an equipment production line.
Additional Resources:
Cummins.com Media Release – "Cummins Inc |Energie Power Ltd. and Chongqing Machinery and Electric Co. Break Ground on New Plant in China"