Please notice we are not Cummins company , we are a professional genuine diesel parts supplier .
If you're looking for our Cummins Genuine Parts price, please check price directly, for any questions, you can also click here to contact us.
But if you want contact Cummins China, here is the 7 * 24 hours hotline: 400-810-5252
Cummins and China 's cooperation began in 1975 , when Mr. Cummins chairman Irwin • Miller 's first visit to China as one of the earliest American entrepreneurs seeking business cooperation in China. Under the visionary guidance of Erwin • Miller , Cummins begin thirty years increasing investment , deepen cooperation with local strategic partners , becoming China diesel engine industry leader
In 1979 , the beginning of China's reform and opening up , the first Cummins China office was established in Beijing . In 1981, Cummins and China Heavy Duty Truck Group signed a license agreement to become one of the first foreign-funded enterprises in China to localize production . Since then , Cummins has been working to establish strategic partnerships with many companies including Dongfeng Motor in China. Cummins has invested more than two hundred forty million US dollars in China , as China's largest foreign investor of diesel engine , Cummins has 14 joint ventures and wholly-owned manufacturing enterprises, producing engines, turbochargers , filters, exhaust systems in China , fuel system, alternator and generator sets and other products. 17 Cummins engine series have eight series of products in accordance with the Cummins global harmonization of strict quality standards in China .
Cummins in China established a service network of 10 regional service centers and over 230 authorized distribution and service providers formed. By the end of 2006, more than one million sets of Cummins engines in China put into use.
Cummins has full of confidence of economic development of China, so in 1997, East Asia headquarters setted in Beijing, overall management of Cummins in China mainland , Taiwan, Hong Kong and Mongolia , and was the first to set up regional headquarters in Beijing .
China has become one of the overseas markets the fastest growing in the worldwide . 2006 Cummins sales in China more than 1 billion US dollars in three years , is the world's largest and fastest-growing overseas markets of Cummins
Cummins Events in China
●  In 1975 , former chairman of Cummins Elvin • Miller 's visit to China , kicked off cooperation with China.
●  In 1979 Cummins first Chinese office opens in Beijing
●  In 1981 Cummins and China National Heavy Duty Truck licensing agreements , automobile engine plant in Chongqing Cummins high-horsepower (N, K series ) diesel engine .
●  In 1986 Dongfeng Automobile Company began to license the production of diesel engine factory in horsepower Cummins B Series engines
●  In 1994 the joint venture – Shanghai Fleetguard Filter Co., Ltd. was established to produce filtres.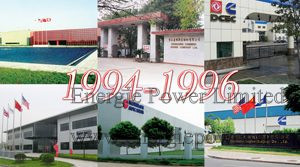 ●  In 1995 the joint venture company – Chongqing Cummins Engine Co., Ltd. was established to produce the Cummins M / N / K series diesel engine and generator set
●  IIn 1996 the joint venture – Dongfeng Cummins Engine Co., Ltd. was established to produce the Cummins C series engine horsepowerJoint venture – Wuxi new alternator Limited was established to produce alternators StamfordJV – Holset Engineering Co., Ltd. established production Holset turbochargers owned companies – Cummins Engine ( Beijing ) Co., Ltd. was established to produce Cummins Weili generating units
●  In 1997 Cummins Engine ( China ) Investment Co., Ltd. was established in Beijing , integrated management of Cummins investment in China and business development , but also the headquarters of Cummins East Asia.
●  In 1999 sole proprietorship – Cummins ( Xiangfan ) Machining Co., Ltd. established
●  In 2001 Cummins launched simultaneously meet European III emission standards of all-electric car engine Cummins simultaneous launch of the European, American and Chinese markets in line with European environmental standards in the second phase of off-highway mobile equipment engines for construction machinery market in Europe and China
●  In 2003 Cummins and Dongfeng Motor to expand cooperation and achieve joint venture Dongfeng Cummins Engine Co., Ltd. to expand . The expanded Dongfeng Cummins in China will become the largest -scale heavy-duty diesel engine , the most technologically advanced production base
●  In 2004 Euro III Cummins become China's largest supplier of diesel engines Cummins engines in China market holdings amounted to 850,000 sets
●  In 2005 Cummins launched simultaneously meet the Euro 4 emission standard vehicle engines and European non- road mobile Phase III environmental standards to European, American and Chinese markets engineering machinery engine
● In 2006 Cummins cooperation with Dongfeng Motor Corporation set up an engine development center Wuhan Economic and Technological Development Zone in the formal foundation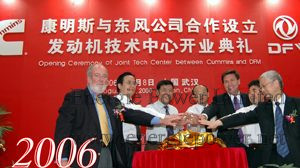 ●  In 2007 Cummins and Shaanxi Automobile Group established a joint venture in Xi'an , the production of heavy-duty truck engines Cummins ISM 11 – liter flagship all-electric control diesel engine , Fleetguard Inc. ( a wholly owned subsidiary of Cummins ) and Dongfeng joint venture in Hubei Xiangyang , production scheduling gas System
●  In October 10, 2009 – Cummins double happiness : won the "Chongqing make contributions for the country meritorious enterprise" , and appeared in the " 60-year economic impact of 60 enterprises in Chongqing " list
●  In October 2009 , Cummins in China 's largest diesel generator set manufacturing plant – officially put into operation located in Wuhan Economic and Technological Development Zone of Cummins Power Generation ( China ) Co., Ltd. , the project constructed in two phases , will achieve an annual output of 7300 sets put into power generation production capacity units, 20,000 units and 15,000 units with automatic conversion engine control system (ATS) equipment.
Cummins Service System in China
Our Mission:
Provide quick service

Offer better solution

Professional technical support
Our Value:
C – Caring

A – Accurate

R – Responsive

E – Easy