On June 8, under the theme of "Unleashing the Richness of 40 Years, Break Forth to the New Normal," Cummins representatives and key stakeholders met in Beijing to celebrate Cummins China's 40th anniversary.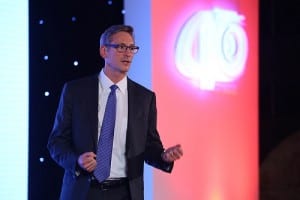 Leaders from all of Cummins' joint venture partners in China were present at the milestone event, including Dongfeng Motor (partner for Dongfeng Cummins engine JV), Foton Motor (partner for Foton Cummins engine JV), LiuGong (partner for Guangxi Cummins engine JV), Chongqing Machinery and Electric (partner for Chongqing Cummins engine JV), Shaanqi (partner for Xi'an Cummins engine JV), Wuxi Power (partner for Wuxi Turbo Technologies JV), Valvoline (partner for Shanghai Cummins Valvoline JV), Tianyuan (partner for Cummins Tianyuan Telematics JV), Kanghao (partner for Cummins Power Technologies JV), and Jardine (partner for Cummins Jardine Energy Solution JV).
1975-1979: Cummins Dares to Be the First
In 1972, U.S. president Richard Nixon helped rebuild the relationship between China and the United States by becoming the first U.S. president to visit the country since 1949. Three short years later, China Heavy Machinery Import and Export Corporation imported Cummins-powered heavy duty trucks for Iron mine in Benxi.
To satisfy the needs of the customers, the then Cummins Chairman Irwin Miller came to China as one of the earliest American Entrepreneurs seeking cooperation with China. His trip to China laid a solid foundation for Cummins footprint in the China market. In 1979, Cummins set up its first China Office in Beijing and became one of the earliest multinationals establishing entities in China.
"The past 40 years were nothing short of an amazing transformation for China, and Cummins was able to capture the growth momentum hand-in-hand with our great partners…"
During the 40th anniversary celebration event, JV partners joined Tom Linebarger, Cummins Chairman and CEO, and Steve Chapman, Cummins Group Vice President for China and Russia, on the main stage to participate in a ceremonial "button pushing" that triggered a digital display symbolizing the future of Cummins China and its partners. The significance of the anniversary was captured in remarks made by Linebarger during the celebration.
"The past 40 years were nothing short of an amazing transformation for China, and Cummins was able to capture the growth momentum hand-in-hand with our great partners," Linebarger said. "The partnerships we have forged in China are unmatched, both because of the excellence of the companies that we are fortunate to call our partners and the strength and openness of our relationships. I have every confidence that these partnerships will continue to drive our joint success in the future."
Today, Cummins' business in China has grown to nearly $4 billion, making the company one of the leading engine manufacturers in the country.
"All these remarkable achievements are only possible through collective efforts of more than 9,000 Cummins people who have helped broaden our product line across all segments of the business, bring innovative technologies at competitive cost and provide strong customer support everywhere and every time," added Chapman.
Cummins leaders used the anniversary celebration to emphasize their continued confidence in the company's future in China. As China's economy embarks on the the "New Normal," which points to mild economic growth and an industrial transformation, Cummins' long-term partnerships, innovative spirit and deep understanding of customers' needs position the company to play a key role in the country's industrial upgrade and transformation.
Additional Resources
In the YouTube video below, go inside the Beijing Foton Cummins Engine Company (BFCEC) plant – one of the newest and most advanced Cummins engine plants to date.