In early June, the Beijing Environmental Protection Bureau (Beijing EPB) held a ceremony to recognize Beijing EPB, Beijing Public Transit (BJPT) and Cummins Inc |Energie Power Ltd. in their joint efforts to seek innovative approaches to further reduce emissions for public transit buses.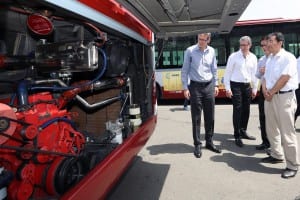 Fang Li, Deputy Director of Beijing EPB and Zhong Qianghua, Deputy General Manager of Beijing Public Transit joined Tom Linebarger, Cummins Chairman and CEO and Steve Chapman, Cummins Group Vice President for China & Russia in collaboratively executing a software upgrade for the BJPT busses powered by Cummins engines.
According to a study by Beijing EPB, the Selective Catalyst Reduction (SCR) system may not function well when city buses operate at low speeds, which would lead to higher NOx emission level. In order to solve this issue, Beijing EPB developed a new calibration process for the city busses.  4,656 of those busses are powered by Cummins engines.
Cummins is the first engine maker that proactively took responsibility to work with Beijing EPB and BJPT to address the issue. Cummins East Asia R&D Center analyzed the case and came up with a solution package composed of both a hardware addition and software upgrade: adding insulating materials on aftertreatment system, plus upgrading the software of Cummins-powered city buses to meet the new calibration requirement.
The new calibration is aimed at eliminating SCR's idling time. It is expected to further reduce 60 percent of NOx emissions. Just counting the 4,656 cummins-powered buses, the retrofit project is going to reduce 1,000 tons of NOx emissions on a yearly basis.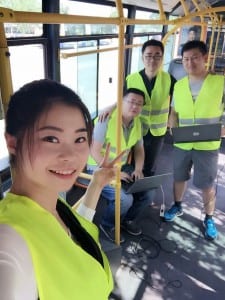 To demonstrate Cummins' commitment to the environment and local community, Cummins China launched volunteer programs calling on employees to contribute their knowledge and expertise to this project. Since the program's launch in May, almost 300 employees in Beijing have registered to participate in this initiative. The passion and community service demonstrated were remarkable.
"The active participation of nearly 300 Cummins volunteers in the BJPT Retrofit project demonstrates the heart of Cummins' DNA: our commitment to our customers' continuous success, our commitment to the communities where we live and work and our commitment to the environment." Commented by Tom Linebarger.
"What has made this event even more significant is the way our people are channeling their passion, energy and dedication to honor the 40th anniversary of Cummins China." Said Steve Chapman, "There is no other effort that could fit better in the 40th Anniversary theme of 'Unleashing the Richness of 40 Years' than using our own hands to make public transit buses cleaner."
Additional Resources
"Cummins Celebrates 40 Years in China"