Cummins participate Shanghai Bauma (bauma China 2014) at 25-28th November for the first time demonstrated for specific applications market power exclusive new series -QSF3.8 (10-17t excavators, 4-10t exclusive forklift power), QSB7 (20-30t excavator exclusive power) off-road all-electric engine, on the same stage show also includes QSF2.8 to QSX15-highway light, medium and heavy-duty full range of engine,  emission technology pioneer representative products- Tier 4 Final QSL8.9 engine ,  Cummins QSK60 highpowered engine's  product, and advanced nano Cummins Filtration, ReCon® remanufacturing technology and other related components.  China Construction Machinery Association Secretary-General Li Hongbao , China Construction Machinery Industry Branch of the Permanent Secretary of the vehicle Jie,   invited by Cummins vice president of global light, medium and heavy-duty engine market, general manager Liu Xiaoxing, Cummins Vice President / China chief technology officer Dr. Peng Lixin,  Cummins light, medium and heavy-duty engine market, executive director of technology Jonathon White celebrate together for the new mortgage.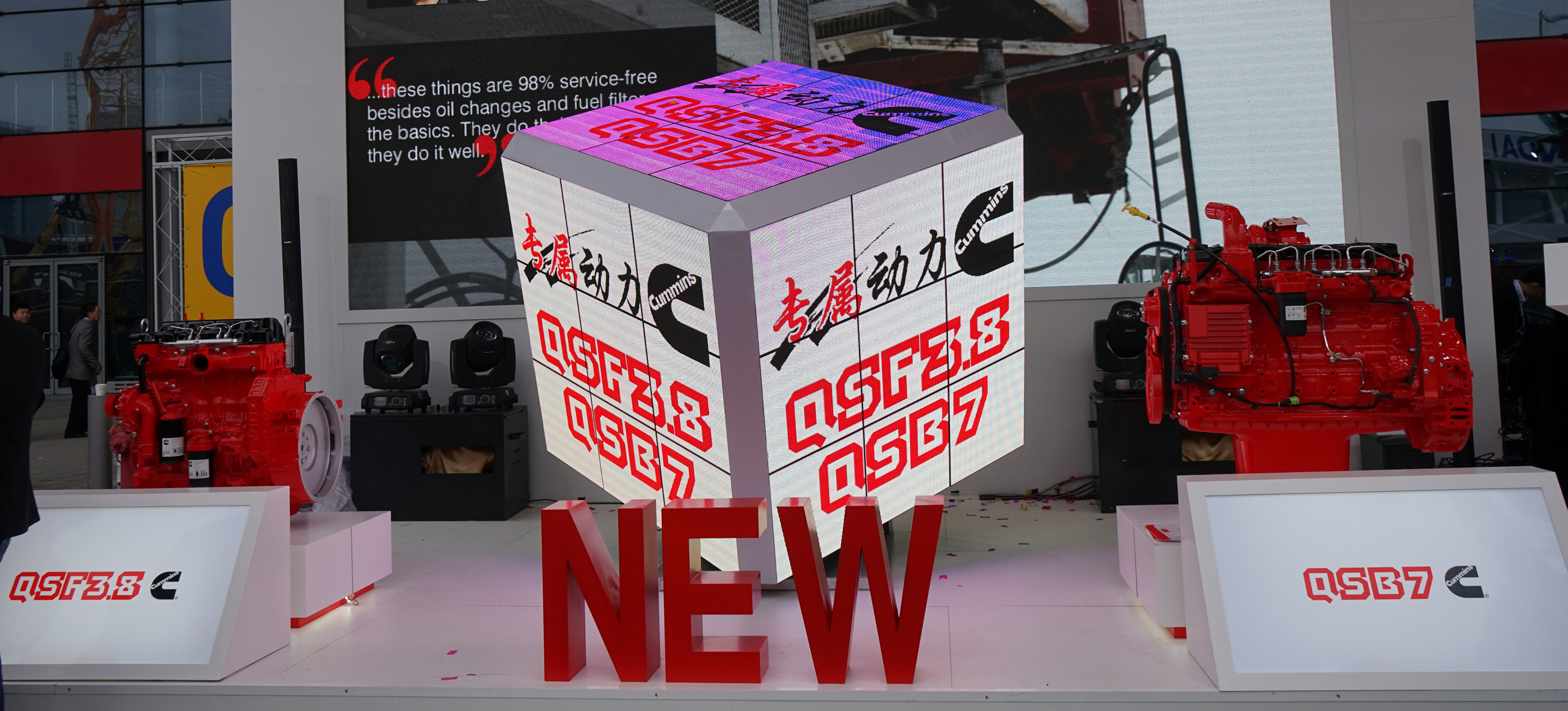 "Cummins pioneering force in the special field, is close to the market to meet the growing need of customers, that is the most economical cost to get the best product. Cummins is the world's largest independent engine manufacturer, to help customers develop new markets, providing in line with market demand for products, technologies and services, "business general manager and vice president of Cummins  light and heavy-duty engine in China  – Liu Xing said," with emissions standards worldwide continue to improve, Cummins as a technology leader in emissions ,meet faster and better  the requirements of these standards, to provide customers with reliable products, excellent cost performance and economy. Cummins will continue to maintain a leading edge technology, increase investment in product development and service channel construction, customers to create the best value. "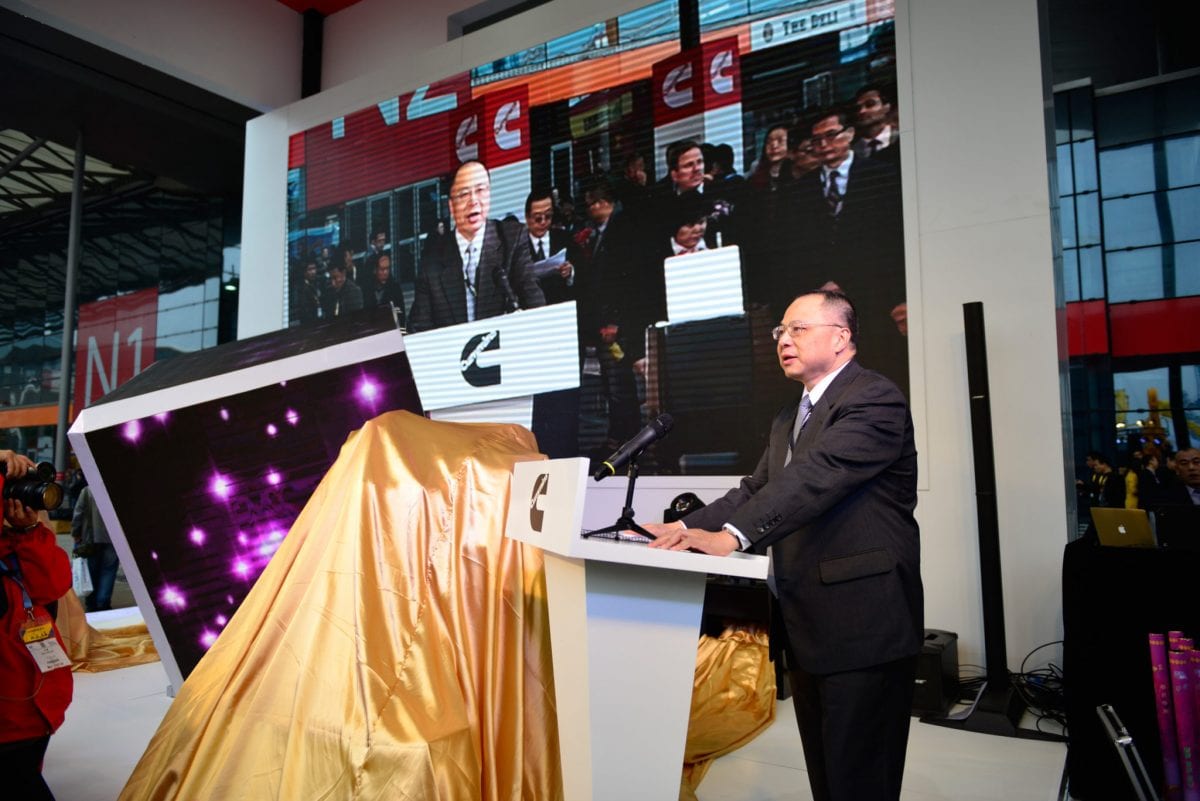 QSF3.8-10-17t excavators, 4-10t forklifts exclusive power Cummins introduced a new four-cylinder engine -QSF3.8 series, power 99-140 hp (74-104 kW), meet to the emission standards of Chinese / European non-highway ,  with a only modification through the installation of selective catalytic reduction system (SCR) it can meet the most stringent stage IV emission standards (EU Stage IV / EPA Tier 4 Final), with superior power, durability and operational cost advantages, a new industry benchmark for compact four-cylinder engine. At this point, all-electric four-cylinder Cummins engine expanded to 2.8 liters, 3.8 liters and 4.5 liters, covering a power range 46-173 hp (37-129 kilowatts), its lowest Tier 4 Final emissions upgraded version of the test is still in progress in the field conditions, QSF3.8 and QSB4.5 series is expected to mass production in 2015, and 75-173 hp (56-129 kilowatts) implementation time consistent engine emission standards.
QSB7-20-30t excavators exclusive power
B5.9, QS / L9.3- loader with exclusive power
QSF2.8-5-8t excavators, 1-5t forklifts exclusive power
QSK60- high-powered product
ReCon® win Cummins parts
Cummins Cummins ReCon® parts remanufacturing technology is based on the production of pure Cummins parts. ReCon® parts in the production can save energy and protect the environment; at the same time, through the old parts back, ReCon® parts allows customers to lower prices to obtain high quality pure products. Cummins ReCon® parts by global customers welcome, in order to meet market demand in China to launch more remanufactured products, the use of innovative remanufacturing technology to enhance Cummins remanufacturing capabilities in each area. The exhibition displays ReCon® parts for industrial markets, including short cylinder, electronic power control module, urea pump, fuel pump, fuel injectors and turbochargers, the vast majority of the product is the first appearance in China, representing the Cummins another world class manufacturing techniques.
Cummins Filtration NanoNet ™ nanotechnolog
As large parts of the engine core technology integrators and leading manufacturer Cummins also demonstrated the use of cutting-edge nanotechnology, fuel system with excellent protection performance NanoNet ™ fuel filter. This new fuel filtration products, filter media using nano-technology, by improving the filtration efficiency effectively remove foreign particles in diesel. NanoNet ™ advanced filtration media filtration efficiency represents the next generation of cutting-edge technology, through NanoNet ™ fuel filter structure optimization, oil and water separation efficiency to nearly 99 percent, has been through more than 150,000 hours of engine bench, 75,000 hours of non-Highway road test and more than 24 million kilometers of highway road test. Since 2012 the official release date, Cummins NanoNet ™ fuel filter on a global scale has sold more than 300,000, received by users, impressive