Today, many companies are becoming more and more eco-conscious about the products they create. Cummins knows the importance of producing products that exceed customer expectations, especially when it comes to products that lead to a cleaner, healthier environment. Recently, Cummins was present at the BusVic Maintenance Conference and Exhibition in Melbourne were the focus was on the pros and cons of the Euro 5 versus the Euro 6.
At the BusVic Maintenance Conference and Exhibition, Cummins ever-strengthening position in the Australian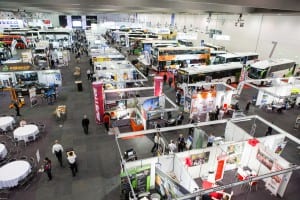 bus and coach industry was clearly evident. The two-day event, attracted over 1500 delegates from not only Australia but also countries such as Singapore, China and New Zealand.
The Euro 5 regulation was created in the hopes of reducing the emission of particulate matter from diesel cars (from 25mg/km to 5mg/km). The latest regulation, Euro 6, which has stricter regulations when it comes to the on-board diagnostic controls. The diagnostic control, monitors the engines exhaust treatment and notifies the operator if there is a problem.  It appears that many cities and municipalities favor the Euro 6 product ahead of legislation, which seems four to five years away in Australia.
Australia's bus and coach industry has a market size of 1,400 to 1,500 units delivered each year, of which Cummins has a 30 percent share. That's an impressive figuring considering that just 10 years ago, Cummins' share in the market was negligible. Cummins' main business today is in the charter, school and coach sector, versus transit/city bus applications.
It seems though like its only matter of time before the industry runs early with the Euro 6 legislation. To many companies this may be a challenge but to Cummins it is not. There are products that are currently out that already meet the Euro 6 regulation for bus and coach applications.  The ISB 4.5 and 6.7 (launched in Europe in 2013) and more recently the ISL 8.9 meet the standard of this regulation.
Cummins South Pacific HMLD engineering manager Neil Husband presented at a maintenance and technology session, delivering powerful information on the evolution of engine technology, emissions solutions systems and relevant maintenance guides.
"Feedback from visitors demonstrated the strength of our customer support throughout the South Pacific region," says Chris Bowerman, Cummins South Pacific automotive business manager – bus and coach.
To Cummins it's not only about innovative products but about producing products that help the environment. To learn more about our engines go to cumminsengines.com.