Editor's Note: This article appears in Cummins' 2014-2015 Sustainability Report. Download the 2014-2015 report in its entirety here. 
Cummins made significant progress on all of the goals it established in 2014 to reduce its use of water and energy and the waste it produces in its facilities.
The Company is close to its energy goal, which is tied to 2015, and is already close to its overall target for water consumption by 2020. But officials say it remains to be seen if the Company can reach its water goal over an extended period of time.
"We want to show we can consistently meet these goals before we develop new ones," said Mark Dhennin,
Cummins' Director of Energy Efficiency and Environment. "We're off to a good start and there's been some great work done, but there is still a lot of work ahead before we can say we met our 2020 goals."
Here's a 12-month progress report on each of the six goals Cummins established:
Reduce direct water use across Cummins by 33 percent by 2020, adjusted for hours worked. Achieve water neutrality at 15 Cummins manufacturing sites where water is in short supply, also by 2020.
BASELINE YEAR: 2010
Cummins used 972 million gallons of water in 2014. While this is an increase of 14 million gallons from 2013, the number represents a nine percent decrease in water use intensity since last year. Compared to the goal's baseline year of 2010, direct water use is down by 14 percent, while water use adjusted for hours worked is down by 36 percent.
As the Company prepared to establish its water goals, some sites began their efforts ahead of the announcement. In fact, four sites, including three engine plants in China and the Technical Center in
Columbus, Indiana, saved more than 67 million gallons, about 7 percent of the Company's total water use in 2014.
These achievements have placed Cummins ahead of its 33 percent goal.
But with several new facilities open that are continuing to ramp up production, Cummins must ensure it continues producing these results through its next phase of growth and production.
The Company's water neutrality work, meanwhile, is progressing as expected. Over the next year, Cummins' efforts are focused on validating the Company's calculation methodologies using sites that are implementing projects and defining project roadmaps to goal achievement.
Because the Company is still validating its calculations, Cummins is not yet prepared to confirm sites as water neutral, but has approximately six sites, primarily in India, that have implemented significant projects toward achieving water neutrality.
The Company's efforts already underway range from expanding water reservoirs in Pune, India; to creating reservoirs and improving irrigation practices in Cummins India's Model Village program in Nandal; to digging a new well for a school in Xiangyang, China, establishing a rain water harvesting system and teaching students the importance of using water wisely.
Increase recycling rate from 89 percent in 2014 to 95 percent by 2020. Reach "zero disposal" status at 30 sites by 2020 where 100 percent of waste is recycled in a useful manner.
BASELINE YEAR: 2010
Cummins continues to make progress on its public waste management goals. In fact, the Company's U.K. sites have already achieved a collective 99 percent recycling rate. The Company altogether recycled 90.4 percent of its total waste generated in 2014, equivalent to approximately 165,000 metric tons of waste.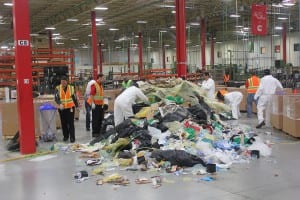 Since the baseline year of 2010, Cummins' total waste disposed decreased by about 22 percent in absolute terms, while experiencing a 41 percent reduction in disposal adjusted for hours worked. Compared with 2013, Cummins' total waste disposed in 2014 decreased by 2,000 metric tons on an absolute basis or 20 percent, adjusted for hours worked. Facilities and operations staff have updated some waste management processes to ensure goal success.
The team is conducting "deep dive' waste evaluations at the 10 sites that account for 50 percent of the Company's waste disposal. A waste reduction toolkit will be included in the formal waste reduction plan at those sites. Concurrent quarterly waste reviews by business unit and region is expected to provide greater insight into progress and facilities best practice sharing.
As with the Company's water neutrality goal, Cummins has formalized its definition of "zero disposal." Four sites have been validated as zero disposal under this criteria. There is currently one site awaiting validation as zero disposal.
Under Cummins' definition of zero disposal, waste can only be burned for energy recovery after reasonable efforts have been made to reduce, reuse or recycle, and then only if there is a net energy gain, creating more energy than is needed merely to sustain combustion.
Reduce energy use and greenhouse gas (GHG) emissions by 25 percent and 27 percent, respectively, compared to a 2005 baseline and adjusted to sales, by 2015.
BASELINE YEAR: 2005
The focus on energy and greenhouse gas was the first company-wide initiative of its kind at Cummins, targeting a specific set of environmental impacts around the globe. An initial goal was set for 2010. Achieving the second goal by 2015 will require the Company to double its energy efficiency reductions at the same time Cummins' business is changing.
The Company is adding several new buildings that will use energy but not produce revenue, engage in more joint ventures in the engine business, and produce more high horsepower engines, which require a lot of fuel to test.
These changes have been challenging, but Cummins is on track to meet both its energy and GHG goals. The Company is leveraging lessons from programs such as the ISO50001 energy management system and the Department of Energy's Superior Energy Performance program.
In 2014, the Company's GHG emissions increased both on an absolute basis (up 8.6 percent) and decreased when adjusted for sales (down 2 percent) from the prior year. Compared to the energy / GHG goal baseline year of 2005, emissions have decreased 35 percent, while increasing by 10 percent on an absolute basis.