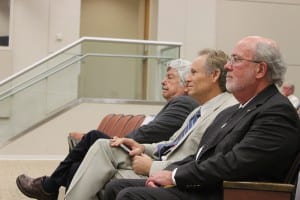 Cummins' Vice President – Chief Technology Officer, Dr. John Wall, and two California professors are the latest recipients of a prestigious award presented Thursday, June 25 that recognizes outstanding lifetime achievement in air-quality research, science and technology.
The Haagen-Smit Clean Air Awards are presented annually by the California Air Resources Board (CARB), one of the most influential emissions regulators in the world. California is the only state in the U.S. permitted to have such a regulatory body. It is a division of the California Environmental Protection Agency.
"These three individuals have championed public health with extraordinary contributions to air pollution science, research and technology," said CARB Chairwoman Mary D. Nichols. "The Haagen-Smit Award is our way of honoring these individuals who have demonstrated a sustained commitment to protecting public health."
Wall "has consistently taken a proactive, environmentally conscious position for the diesel industry."
The board presented the awards, which it considers the "Nobel Prize" of air-quality achievement, at its regular meeting in Sacramento, Calif. (U.S.A.).
CARB said Wall has "played a leadership role in the development and implementation of all the major technology advancements ultimately leading to the near-zero levels of emissions of particulate matter and oxides of nitrogen from engines. He has consistently taken a proactive, environmentally conscious position for the diesel industry."
Dr. Donald Blake, a professor of chemistry at the University of California – Irvine, was also honored by CARB for his work measuring volatile organic compounds that "provided critical insights into their roles in air pollution and climate change."
Dr. Kirk R. Smith, a professor of global environmental health at the University of California – Berkeley, was honored for work exploring premature deaths linked to smoke from traditional cook stoves in India and China.
Each 2014 award recipient presented a 20-minute talk Wednesday at a forum sponsored by CARB. Wall spoke on "Advances in Diesel Technologies & Worldwide Implementation."
As an executive with a company perhaps best known for its diesel engines, Wall told the board Thursday he was "a little stunned" to receive such an award from a regulator known for its dedication to clean air. He said it was further evidence of how far diesel technology has come. "I am truly proud to receive this award," he said.
To learn more about the Haagen-Smit Award, go to http://www.arb.ca.gov/research/hsawards/hsawards.htm.