Editor's Note: This is the third in a series of articles highlighting Cummins' 2014 Environmental Challenge winners. Follow us on Twitter @Cummins or sign up to receive our monthly e-newsletter to be notified of new articles. For more information on the Environmental Challenge, see the bottom of this article. 
For many families in China, burning coal to fuel their stoves is simply a way of life. Due to the lack of ventilation, however, the stoves have a significant impact on the air quality both inside and outside of the kitchen walls. As a result, approximately 500,000 people die every year in rural China due to indoor air pollution.
To help combat this problem, Cummins employees in Yangquan, China have installed corn-stalk burning cook stoves in 150 homes for the past two years. The efforts are part of Cummins' annual Environmental Challenge.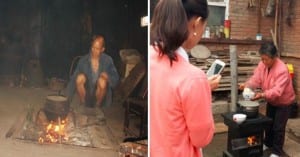 "A cook-stove not only improves the livelihoods of villagers, it also reduces carbon dioxide and particulate matter emissions that result from traditional cooking methods," explains Queenie Wang, the Project Leader for this Environmental Challenge-winning project. As a result of using corn-stalks instead of coal for cooking fuel, two metric tons of carbon dioxide are saved per family annually. Each family can also expect to spend 400 Renminbi (equivalent to $64) less on fuel. Using a cook-stove produces an immediate environmental benefit and families can also save money.
This project began in 2012 and leverages the technical knowledge of Cummins employees and multiple community partners. The Global Environmental Institute (GEI), the China Alliance for Clean Stoves (CACS) and the Beijing University of Chemical Technology have been critical to ensuring the success and sustainability of the project.
The 120 members of the Cummins Emission Solutions (CES) Community Involvement Team (CIT) worked on this effort plan on continuing the success of the cook-stove project. In 2015, Wang and her team have already initiated steps to install an additional 2,000 cook-stoves in the neighboring county of Ruicheng. Along with this planned expansion,  members are complementing the cook-stove project with environmental education classes in 10 schools. 560 students have already participated in these classes.
This particular Environmental Challenge project is a perfect example of how Cummins' goals and technology can align with community priorities. Just like CES, cook-stoves also strive to reduce environmental impact. "Cook-stoves are an ideal application of Cummins technical knowledge and engagement," said Wang.
As a global and regional Environmental Challenge winner, the China ABO-CES Clean Stove Community Involvement Team is thinking globally, and has developed a cook-stove project guide book that can be used to implement a similar project at other sites. Approximately 3 billion people in the world could benefit from a cook-stove similar to what was developed by the Cummins employees in China, putting Cummins employees in a unique position to make a difference for years to come.
About the Environmental Challenge
The Environmental Challenge was introduced to incorporate Cummins' commitment to our environment. It supports Cummins' Mission Statement of "Demanding that everything we do leads to a cleaner, healthier and safer environment." The Challenge was created in 2009 to celebrate Cummins' 90th anniversary and promote Environment priority areas.
For more information on sustainability efforts at Cummins, visit the Sustainability section of our corporate website.